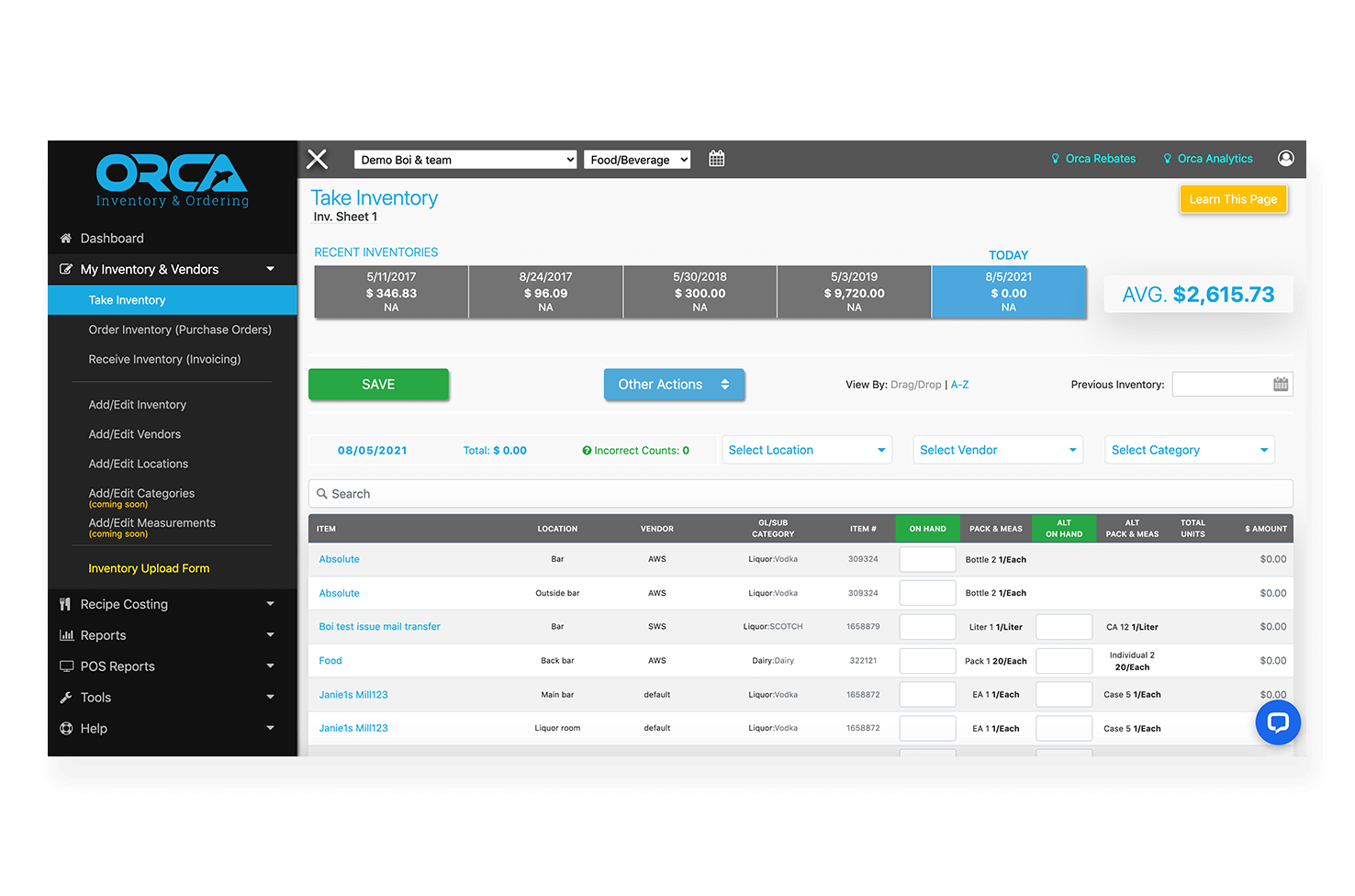 Inventory
A revolution in business workflow has arrived. Orca Inventory went above and beyond for a quick and easy inventory flow. We listened to our collective client needs for over 8 years for the best in class approach to inventory counts.
Orca can hold accountability with audits on your employee counts, customize your inventory lists with filters to quickly sift through large inventory lists and simplify by filtering by location, category, vendor, or a combination thereof. We are the only company who took a drag and drop concept and customized it with Drag and Follow. A feature built by Orca Inventory to quickly get a shelf to sheet list by just pressing a button.
Users can check theoretical inventory amounts, average of historical inventory totals, total by category, total by sub category, and inventory prep items.
Orca has the ability to combine multiple items bought from different vendors in different amounts and can track it as one product.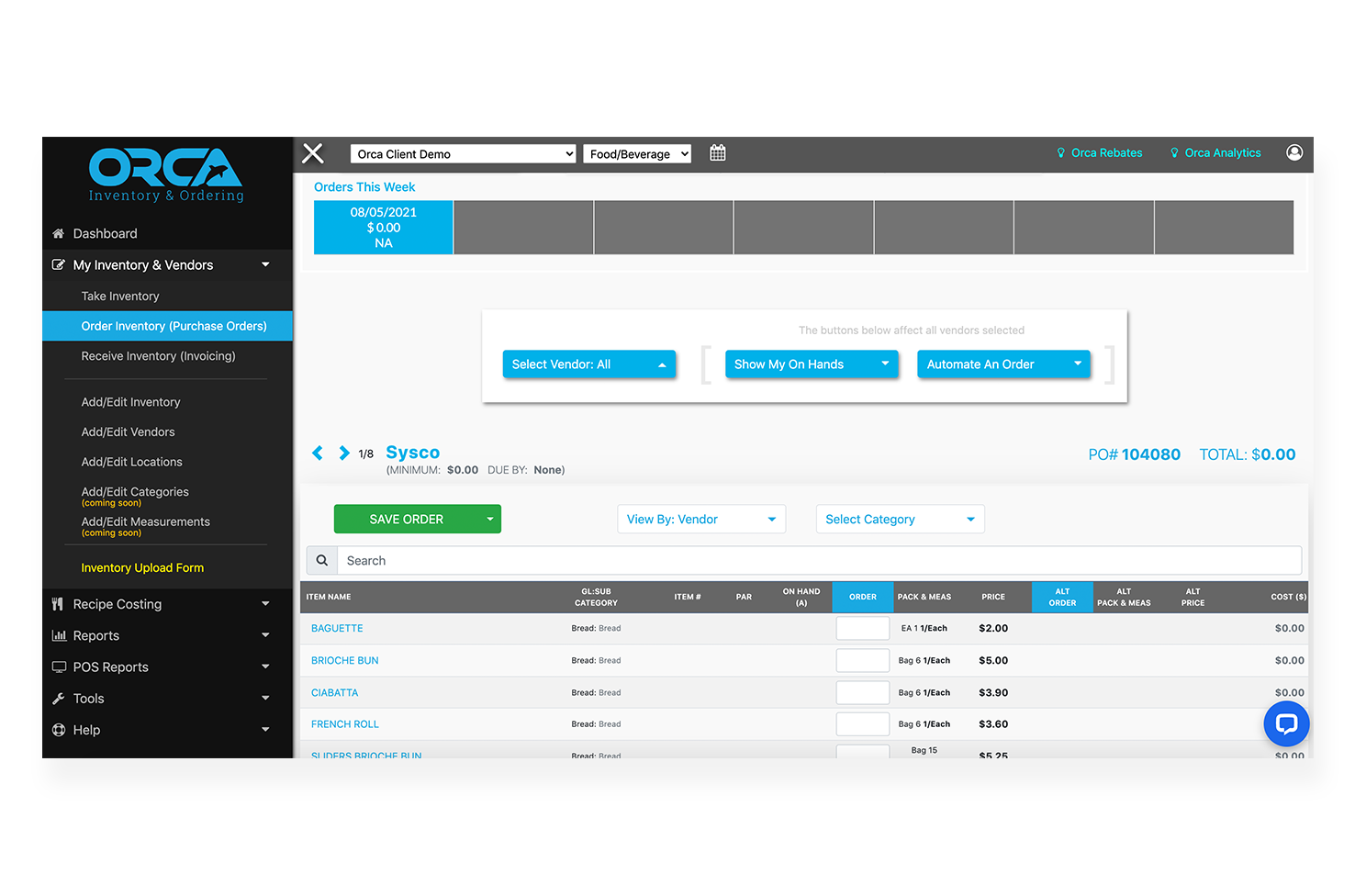 Purchasing
Orca auto generates PO numbers, shows the projected cost of your purchases and estimates your cost of goods before ordering to ensure profitability. We can also set controls for minimum purchase per vendor, the cut off times for orders and net terms for payment.
Enjoy one click ordering for a fast order to par or use our world famous algorithm that not only orders the perfect amount every time but improves automated orders based on sales trends, events, and weather. After the suggested order is presented you always have the power to review and edit the order amount to your own liking.
Before ordering you can ask Orca how much product theoretically is on the shelf. Then press a button to automate suggested orders.
Send orders in many different ways to vendors. We can automate all orders to all vendors in one click via email, EDI, or just click save and call in your order. There is no avenue of ordering we don't offer and can't handle.
If your vendors require you to order form their platforms that is no problem. Our integrations, photo captures, or manual entry can update Orca as if you made the purchases right from our system. We can adapt for any vendor that you work with.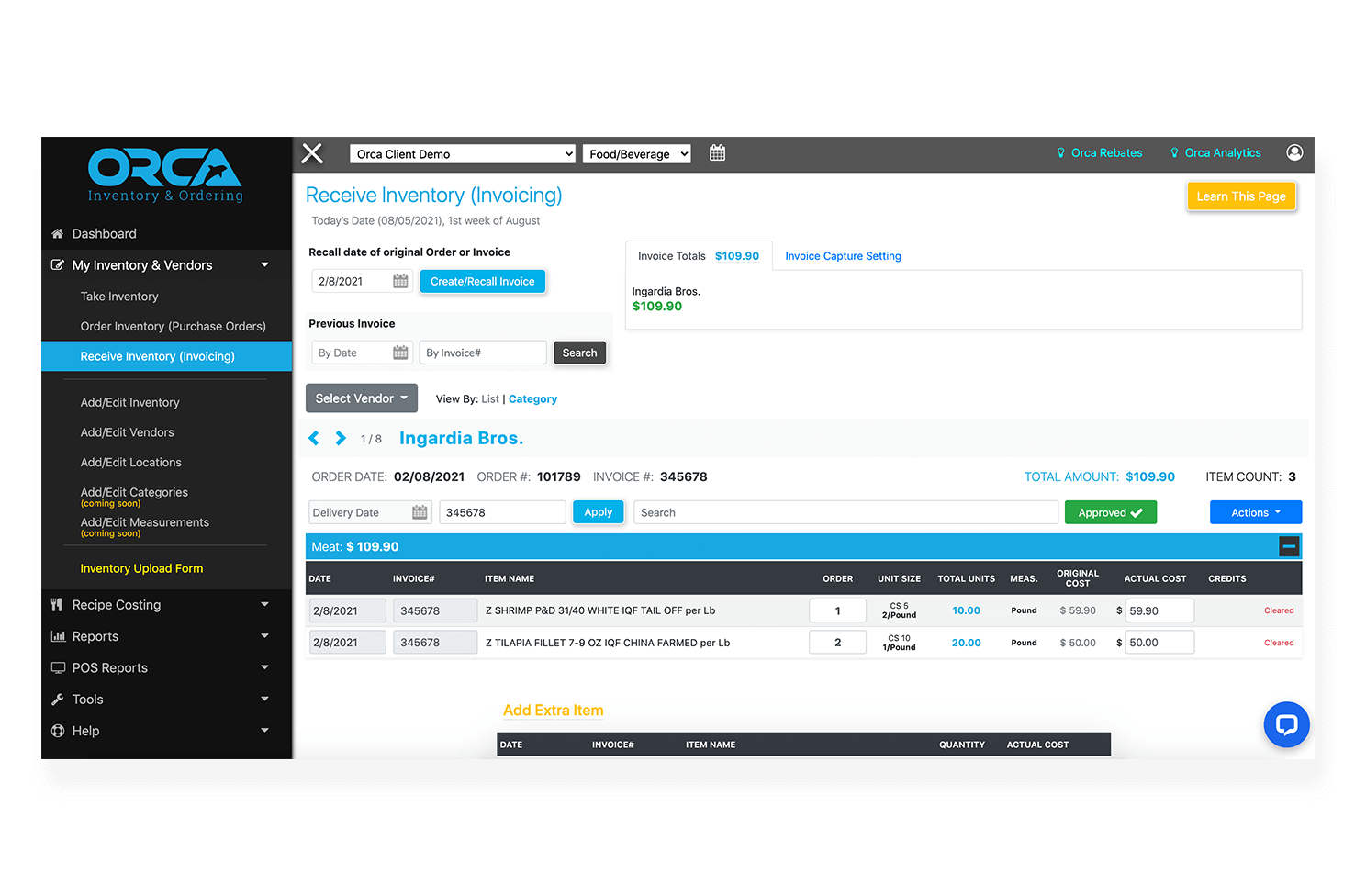 Receiving
Alleviate all manual entry by taking advantage of our world-class integrations and/or using our easy photo capture technology. If your vendor has the ability to integrate then we can. If they are a small or local vendor just take a pic or upload all your invoices at once and send it to us. We will handle the rest.
Check Purchase Orders against deliveries to ensure accuracy.
Users also have the ability to return items, track credits, tax, and other various charges.
What Our Clients Are Saying
ORCA is a great solution to help our customers with inventory, it's the Ferrari of inventory systems!

Scott Livingston -
Sysco
We could not be more impressed with it! It has proved to be unbelievably helpful to our inventory and accounting departments. It's helped us keep costs down and track our spending in ways I didn't think possible. Your customer service is truly unmatched!

Larry Pollack -
Saddle Ranch
The results have been staggering! In one month the difference was almost $20,000! The user friendly system is a breeze to learn and operate. Great customer service!

Tim Wilson -
Spearmint Rhino
It has exceeded our expectations! Helped organize our inventory and ordering systems and saved us money by avoiding over-ordering products and exposing loss and theft. I would recommend this company to anyone of my peers.

Kate Failor -
Playa Provisions