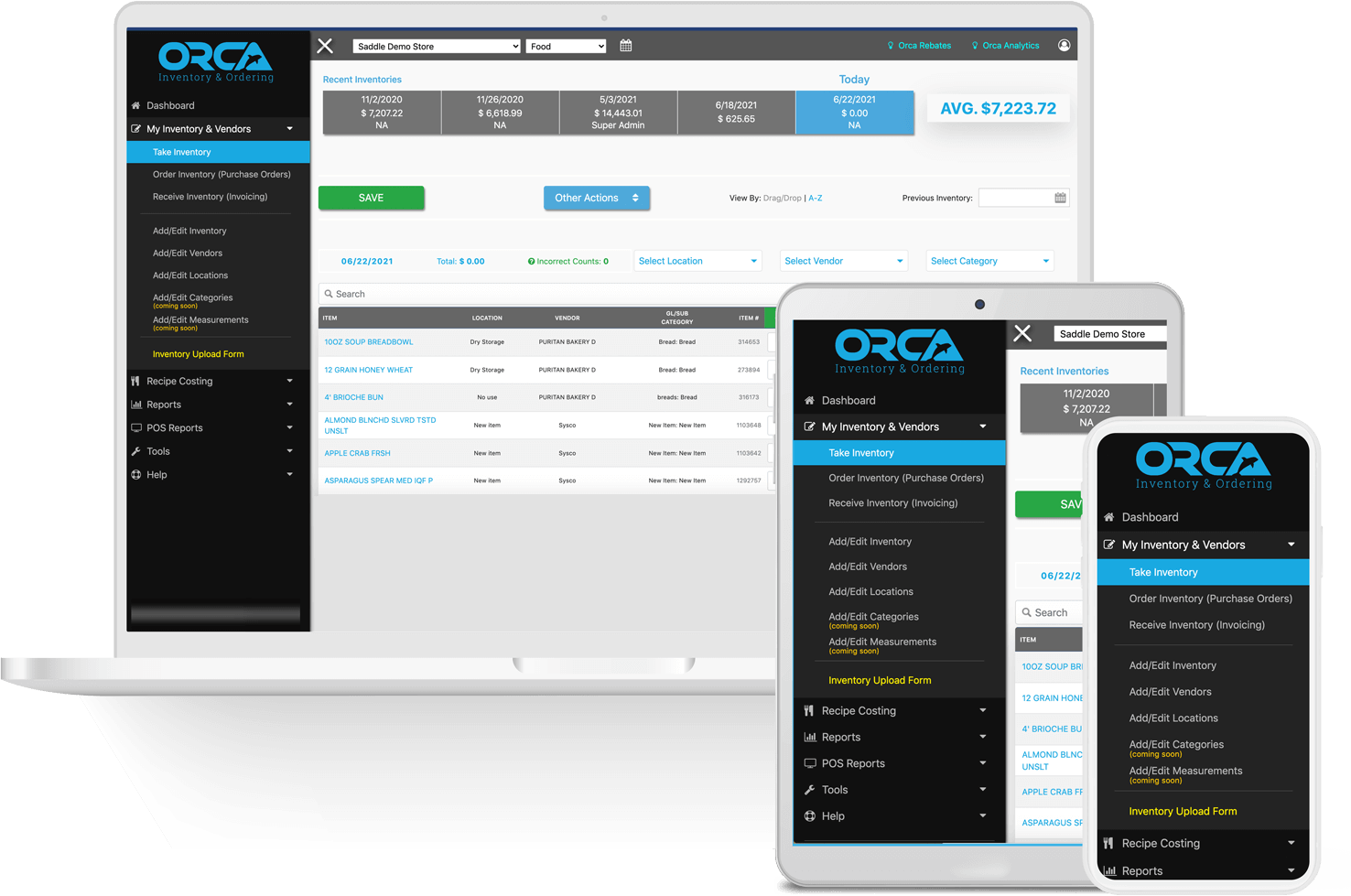 Orca currently builds new integrations every month with new POS systems. If you don't see your POS in our drop down list have no fear, there is only one POS system on planet earth we couldn't integrate with.
Integrations include all sales reports broken down by category and day, product sold reports, top and bottom sellers, and labor for employee cost reporting. Orca utilizes these reports to provide any inventory cost reports that an operator would need to run their business efficiently and effectively.
Adelo
Agilysys/Infogenisis
Aireus
Aloha Integration
Auphan
BPA
Breadcrumb
Cake
Calypso
Clover
Deposit
Digital Dining
Dinerware
EZ Dine
Focus
ForeUp
FrontRest
Future
Heartland
HotSauce
JONAS
Lavu
Lightspeed
Micros
Micros Simphony
MTC
NCR Silver
North Star
ONE POS
Ordyx
PDQ
PointOfSales
Positouch
Reflection
Restaurant Manager
Revel Integration
Semnox
Shopify
Silverware
Skytab
Soft Touch
Square
Sync
Talech
Touch Bistro
Vector Plus
Waiterpad – Triniteq
TEI
What Our Clients Are Saying
ORCA is a great solution to help our customers with inventory, it's the Ferrari of inventory systems!

Scott Livingston -
Sysco
We could not be more impressed with it! It has proved to be unbelievably helpful to our inventory and accounting departments. It's helped us keep costs down and track our spending in ways I didn't think possible. Your customer service is truly unmatched!

Larry Pollack -
Saddle Ranch
The results have been staggering! In one month the difference was almost $20,000! The user friendly system is a breeze to learn and operate. Great customer service!

Tim Wilson -
Spearmint Rhino
It has exceeded our expectations! Helped organize our inventory and ordering systems and saved us money by avoiding over-ordering products and exposing loss and theft. I would recommend this company to anyone of my peers.

Kate Failor -
Playa Provisions